issue-ID
Description
Affected Platforms
Reported on
Status
Comments
DP-230323

directprint.io application keeps popping up in macOS dock.

- MacOS

Apple M1 / Apple M2

Ventura 13.3

Ventura 13.2.1.

Under investigation

Workaround available see below.
We have received a report that on Macs running both M1, and M2 on Ventura OS are experiencing an issue where a duplicate directprint.io icon consistently re-appears on the application dock.
The workaround for this is to ensure the nwjs Helper is configured to allow notifications. This can be found under System Settings --> Notifications - nwjs Helper.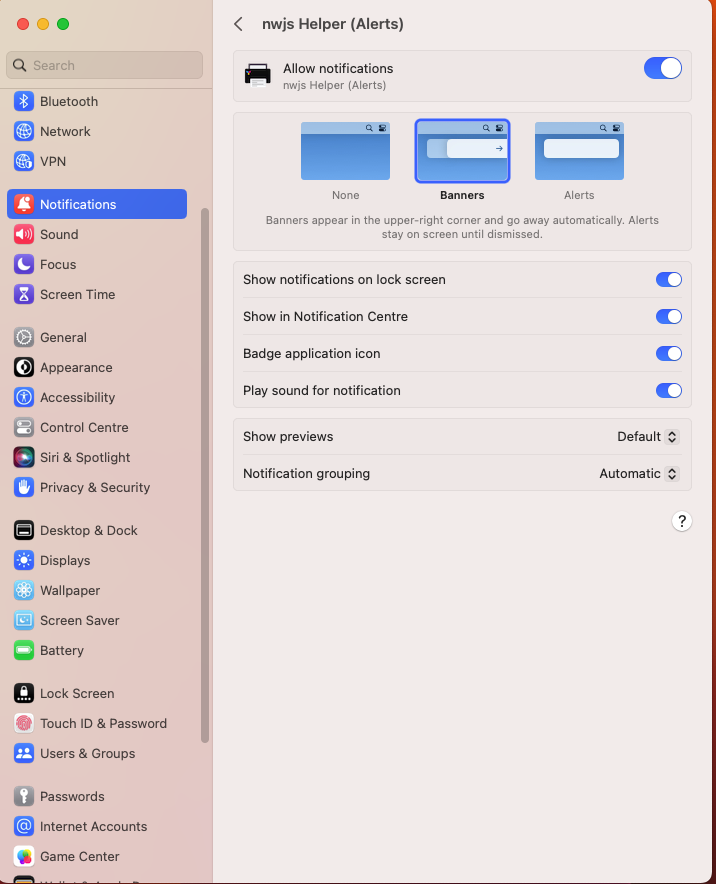 ---
issue-ID
Description
Affected Platforms
Reported on
Status
Comments
DP-0600733

PostScript 3 Color printing problems: No outptut or error page output

'setpagedevice' out of bounds

- Windows

- MacOS

- ChromeOS

Canon PS3

Ricoh PS3

Fix rolling

Chrome Fix rolling out

Oct 3rd 2022

Windows and Mac releases Oct 4th 2022
Customers with Color Canon and Ricoh printers are experiencing issues when color printing is enabled using the PostScript 3 driver.
Error code #919 appears in the Canon logs
directprint.io is aware of the issue and will be issuing fixes on October 4th 2022.
---
issue-ID
Description
Affected Platforms
Reported in
Status
Comments
DP-0600622
Missing printers in Chrome Printer List

- Chrome Windows

- Chrome macOS

- ChromeOS

Chrome version 102
Closed

Fix applied

Windows:

Chrome v.

103.0.5060.53

macOS: Chrome v. 103.0.5060.53

ChromeOS:

v. 103.0.5060.22
A number of customers have reported intermittent issues where printers are no longer presented to them in the Chrome Print Preview dialog -> see more options. We believe this to be a Chrome issue and all 3rd party Chrome print extensions are likely affected.
We are working closely with the Chromium team to help resolve the issue as soon as possible. The Chromium bug can be tracked here https://bugs.chromium.org/p/chromium/issues/detail?id=1330678&q=printers&can=2
For Managed Chromebooks Pinning the Chrome version to 101 or before may help.
Using the Google Admin console Chrome -> Devices, set the chrome version maximum to 101.