Background & Symptoms
Smaller workgroup printers have limited RAM and less-powerful processors.
They sometimes struggle to decode large pages, resulting in slow printing, long pauses between pages or slow startup times.
Printer models affected include:
Brother HL-2270DW, HL-2370DW and 5370DW and some HP models when PDF printing is selected by default (check the detail button in the print log to find the print format set to the printer)
How to fix
Ensure you are using socket printing, your printer URI should be in the format socket://<IP of Printer>:9100
Under Printer Overrides select 'Do not query' and select the hardware default for the printer.
Select the PCL6 as Octet Stream as the printer driver type.
OPTIONALLY / ADDITIONALLY: Enable 'strip encoding' via adding a custom PPD to enable the PCL6 encoder feature.

Navigate to Advanced settings for the printer
Select Manufacturer -> directprint.io
PPD Type/function -> Finishing
Model -> Formatting Controls (force only)
Click 'Add to options'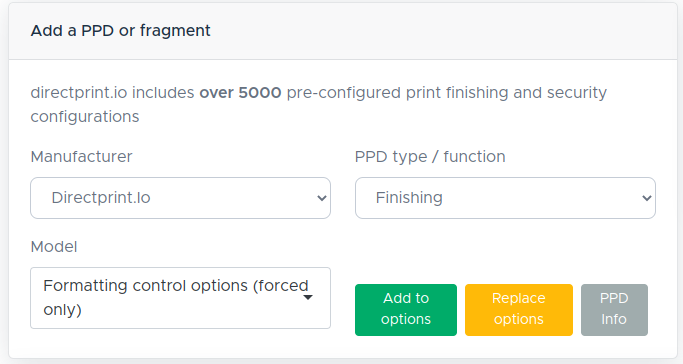 Set the option: PCL6 use strip encoder -> Enable - Use strip encoder

After making this change all clients will pick up the new configuration within 30 minutes of being online.
To force pickup of this change, hit the refresh icon in the directprint.io client application.