Introduction
The new directprint.io application [V3, February 2022] is ready for launch!
We're super excited to introduce it to the world, and we thank those organizations that participated in the Beta program.
This document outlines some of the key changes and gives an idea of what you can expect from our new universal print driver.
If you require any support, please contact us at support@directprint.io or raise a support ticket (requires admins to be signed in).
Logical split of printers, queues, and config
Adding printers via QuickCodes
Forcing a refresh of printers and config
Print Nudge - Encourage better user printing behavior
Deployment
Windows and Mac
The new directprint.io V3 application will be released for Windows, Mac, and Chrome on Thursday 10th of February.
Windows and Mac rely on either IT administrators force installing the new version to their end-users or end-users manually installing it but either way, there is no automated update.
Administrators can deploy the update to the directprint.io V3 application according to their own timing requirements.
In summary
The Windows version update will require manual update via .exe self-install or .msi distribution.
The Mac version update will require manual update via .dmg self-install or .pkg (JAMF) distribution.
Chrome
ChromeOS (and Chrome Browser) versions of the directprint.io application are automatically rolled out via the Chrome Webstore.
When we publish the new version of the application, it will roll out to 10% of our user base, followed by 25%, 50%, 75%, and finally 100% over a ten-day period (approx).
Chromebook devices (and Chrome browsers) are updated randomly, meaning that some of your users will receive the update before others. This is normal behavior.
If you want to prevent directprint.io from automatically updating, as a Google Workspace admin, you can pin the latest version of a Chrome app or extension.
Summary of Changes
A new look and feel
We've introduced a brand new user interface with a contemporary app-like feel to improve the user experience for both you as an IT administrator and for your end-users.
Key things to notice;
Sign on screen
On launch, users without an allocated set of printers, or users which require sign-in will be presented with the option to either;



Add printers via QuickCode
Perform a single sign-on (SSO) with either Google or Microsoft.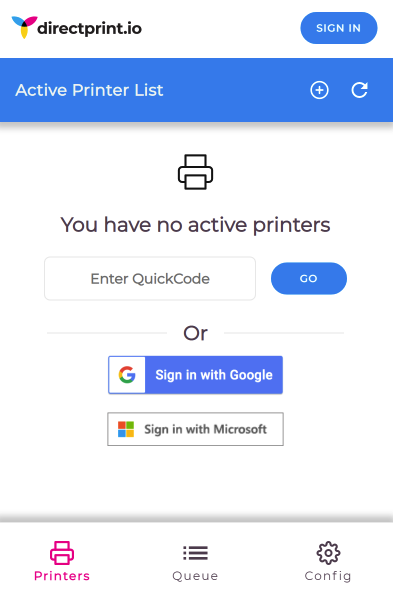 Tabbed menu
We've split Printers, Queues, and Settings into three distinct tabs allowing for a seamless transition and navigation experience between functional areas of the app.
Connection tests
Execute a connection test on a specific printer by clicking on the three-dotted menu then 'Connection test'.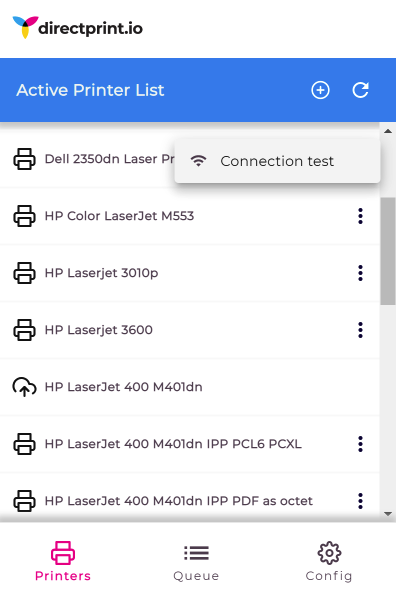 Adding printers via QuickCodes
Add a printer via QuickCodes through the '+' icon in the 'Active Printer List' header bar. Enter the QuickCode into the text entry field and hit 'Enter'.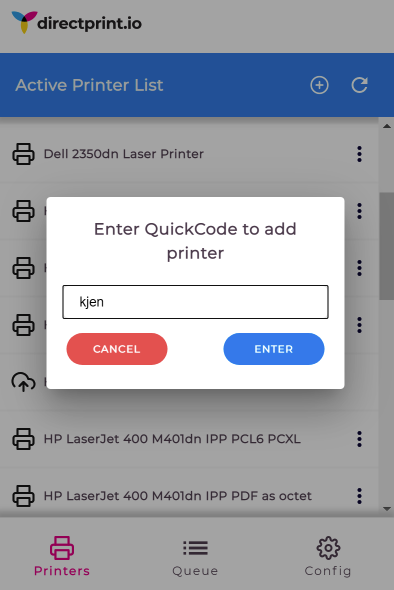 Forcing a refresh of printers and config
Data refresh occurs automatically without user intervention every 30 minutes. If you want to see changes made in the admin console immediately then use the force refresh method.
To force a refresh of the 'Active Printer List' use the refresh icon in the header bar.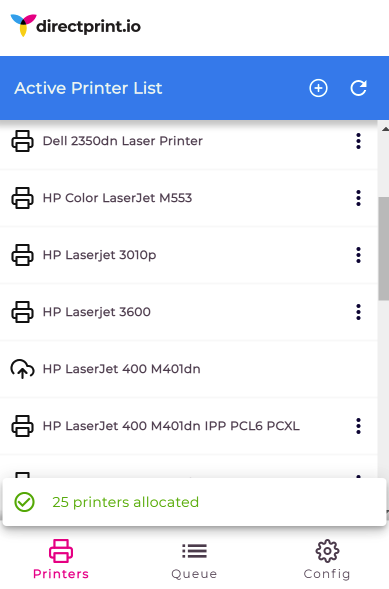 Changes specific to Windows
Along with our support for Microsoft Sign-in and Azure Active Directory, we're now integrated natively with the Windows print dialog. Print preferences and advanced options can now be configured through the Windows print dialog. No more pesky popups!
Support
| | | |
| --- | --- | --- |
| OS version | Architecture | Supported |
| Windows 11 | x86 | Yes |
| Windows 10 | x64 (64-bit) | Yes |
| Windows 10 | x86 (32-bit) | Partial (specific build required) contact us for more information |
Printing Preferences
Basic printing preferences can now be invoked through the 'Bluetooth & devices --> Printers & scanners --> printer x --> Printing preferences' options in Windows.
Advanced printing preferences can be invoked through the 'Advanced' button in the Print preferences popup. Clicking 'Advanced' will launch the directprint.io app and take you to the advanced options settings menu for that particular printer.


Print Nudge - Encourage better user printing behavior
One of our favorite directprint.io features - Print Nudge was only available for our Chrome and Chrome OS user base until now! We're excited to bring it to Windows to help encourage your end-users to print more responsibility.

To enable this feature you will need to configure it in your print policies.