Finding and configuring printer queue URIs
Use the printer discovery wizard
directprint.io can automatically configure printers. The following pre-requisites must be met:
IP connectivity is available to the printer
You are running on a Chrome OS device
You are able to manually install or admin push install the directprint.io client to the Chrome OS device
If the printer is successfully detected the system will offer to add the printer to the printer map.
If you're already logged into the admin interface you can launch the printer discovery wizard directly
---
Manually configuring direct printing
Any printer supporting the Internet Printing Protocol presents an HTTP-like service allowing clients to send print jobs directly to the printer. The HTTP service typically is running on port 80 or 631 of the printer IP address.
Most printers also have a named printer queue which acts as the receiving point for print jobs on pot 80 or 631. This looks like a regular URL path.
How to determine the correct URL?
For Brother, Canon, and HP printers:
http://<IP address or hostname>:631/ipp/
This URI needs to be entered in the printer configuration area details area (select 'Details' then 'Edit printer' for any printer).
---
Using a CUPS print server
Using CUPS: Go to the CUPS admin page on your CUPS server (typically http://your_address:631/)
Select 'Printers', then the link to the printer you want to use. Your browser address bar should now contain the IPP address, which should look something like this: http://192.168.1.101:631/printers/Dell_C1765nfw_Color_MFP_
Paste this address into the server address area, and give the printer a friendly name (e.g. Office 103 printer).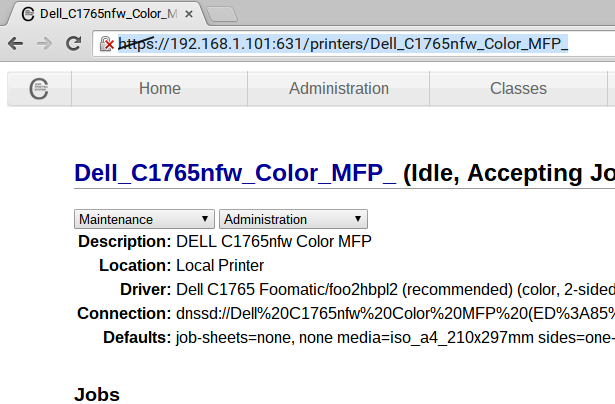 CUPS printer queue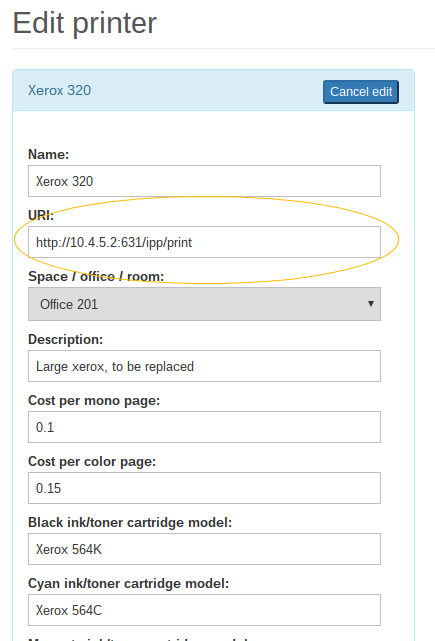 Set IPP URI for a printer